The boys from Houston have stayed busy since making a run nearly 15 years ago during Season 4's America's Got Talent.
A trio of Texas singers turned classical music into popular modern hits — and are still touring the country years after first appearing on Season 4 of America's Got Talent.
The Texas Tenors sang their way to the season finale and finished in fourth place in the competition. They also returned for America's Got Talent: The Champions but were eliminated in the preliminary round. What are they up to today? Exactly what they love: performing live in concert.
Who are The Texas Tenors?
The trio out of Houston, Texas — comprised of JC Fisher, Marcus Collins, and John Hagen — got their first big break when they auditioned on AGT back in 2009, according to their website. They are the most successful music group and third highest-selling artist in the history of the show, the site says.
Fisher is credited with putting the group together and submitting an audition to be on AGT.
Close up of The Texas Tenors
Texas Tenors at Planet Hollywood Casino Resort on October 8, 2009 in Las Vegas, Nevada. Photo: Getty Images
"The guys donned cowboy hats, threw on some boots, and called themselves 'The Texas Tenors,'" they wrote on their website.
Fisher was a big fan of AGT, and had a dream of forming a tenor group with a twist, according to Daily Breeze. He'd known Collins for more than 20 years, as they both performed on various cruise ships. He knew Hagen through real estate business.
"There's tons of tenor groups out there, but I'd never seen a tenor group that does all these genres," Fisher said in an interview with Playbill. "That would be interesting if we could get on there, you know, as kind of a cowboy group and then bust into some classical music and bust up some Broadway and be different."
The group got a gig singing songs at the Miss Kansas USA pageant early in 2009, and recorded the performance, which they submitted to AGT.
"I lost my job," Collins said on AGT at the time. "These guys were struggling to pay the bills. We saw this audition posting for America's Got Talent. We thought, well, let's give it a shot."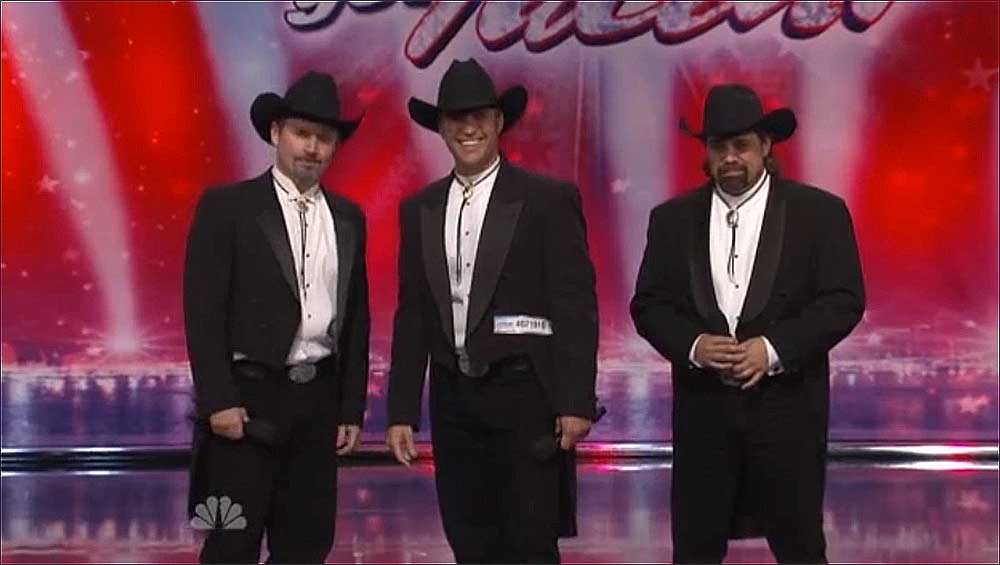 What songs did The Texas Tenors perform on AGT?
The Texas Tenors auditioned for the Judges with a country classic: Alabama's "Mountain Music." They then went on to sing a patriotic piece, Lee Greenwood's "God Bless The USA."
"I just see the billboard in Las Vegas with the three cowboys going, 'Welcome! The Texas Tenors are here tonight!' I'm telling you right now you guys are without a doubt the frontrunner to win this competition," then-Judge David Hasselhoff said of their performance.
The group switched it up with The Righteous Brothers' "Unchained Melody" for the Semifinals during Season 4. They got enough votes to move to the finals, where they sang crooner Frank Sinatra's "My Way," placing fourth overall.
"I'm so proud of us," Collins said on the show. "My two best friends. This is an experience that we'll carry with us for the rest of our lives."
Hagen said the experience was nerve-wracking, but he wouldn't change it.
"You can put a ton of pressure on yourself or do what we did, and that's go in there and try to have fun and let the chips fall where they may," Hagen said to the Daily Breeze. "There's no way you're not going to get a little bit nervous, but we really tried to keep it in perspective, and have fun, and didn't have any huge expectations. We wanted to feel good about what we did."
Although the group didn't make it past the first round of AGT: The Champions when they later appeared on that series, "it gave us validation [to be chosen]," Collins said to Daily Breeze.
What have The Texas Tenors done since AGT?
Since they were on AGT, they've performed 1,300 concerts around the world, they wrote on their website.
The Texas Tenors released their self-titled debut album soon after AGT in 2009 and followed up with studio and live albums, including A Collection of Broadway And American Classics in August 2018. The album topped Billboard's Classical Albums Chart, according to Daily Breeze.
The group later charted as the #10 Classical Artists in the world by Billboard magazine.
That album was a huge draw for theatre buffs and featured the trio singing mega hits like "Music Of The Night" from Broadway's Phantom of the Opera, "Somewhere" from Broadway's West Side Story, and "Bring Him Home" from Broadway's Les Misérables. The group has other musical theatre connections, with Collins a member of the off-Broadway cast of Altar Boyz, while Fisher also performed in operas, according to Playbill.
The Texas Tenors have also been in two PBS specials, including a concert called "Rise" filmed at Galveston's Grand 1894 Opera House in 2017, according to PBS.org. They also filmed a special called "Best Of Our Lives" at Myron's at the Smith Center In Las Vegas, that aired on PBS in November 2021.
They've won three Emmy awards for their PBS specials, according to their Instagram.
The Texas Tenors have also made waves in an unexpected medium: children's books. Rukus On The Ranch was released in July 2015, and is a "tuneful western-style romp on a ranch full of frisky critters" according to its Amazon description.
They followed it up with Moon's On Fire! in Feb. 2020, a story about ranch animals getting ready for bed but the fiery orange moon is too bright. The sequel includes an original lullaby by the Texas Tenors.
The trio is still touring and playing live in front of audiences, with upcoming concerts in Ohio, Indiana, Texas, and Missouri this fall. Tickets are available for sale on their website.
Watch all new episodes of America's Got Talent on Tuesdays and Wednesdays at 8/7c on NBC and catch up on past episodes on Peacock.
---